40 YD Dash – 2nd All-Time Heritage
Cristiano holds the 2nd best all-time best 40 yard dash time for Heritage HS
(fastest all-time when laser-timed)
and is on the leader board for vertical jump.
** Unfortunately the 2020 HS Track Season was cancelled so we don't yet have updated official 100M times.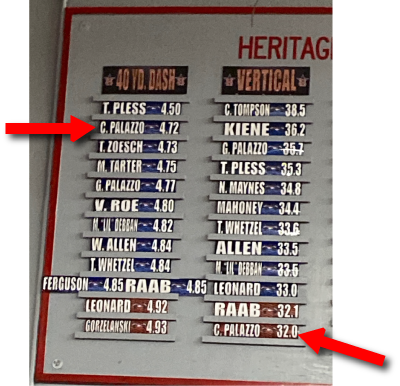 Track & Field
For his Freshman and Sophomore years, Cristiano split his time between Elite Club Soccer with Littleton United and the Heritage High School Track and Field team. As a sophomore, he decided to focus most of his time with the Heritage Track and Field Team. He was one of the top 2 sprinters (swaping back and forth with his older brother) in the open 100M, 200M, 400M, and the 4 X 100M, 4 X 200M, and the 400M in the distant medley relay. He also helped Heritage qualify for State with his 400M leg of the distance medley relay.