All-League DB
Cristiano earned All-League 2nd-team as a defensive back for the 4A Metro League. Cristiano had 31 tackles, 3 tackles for loss, and 1 TD. His receiver was targeted 24 times,

he had 16 pass breakups, and 1 interception,
Jr. Year Defense Game Film
24 Targets, 16 PBUs, 1 Int, 1 TD
31 Tackles, 3 TFL, 1 TD
Jr. Year Composite Game Film
CB, S, & K
Full Uncut FG Charting Session
– 3 60-yard FGs in a row
Kickoff Charting Session 4/23/20
– 81 yards 6+ yards beyond back of end zone from NFL/college spot
Jr. Year Kicking Game Film
30 Touchbacks & 70+Yds Perfect/100% FGs (7 for 7)
42, 35, 35, 35, 29, 26, & 22 yds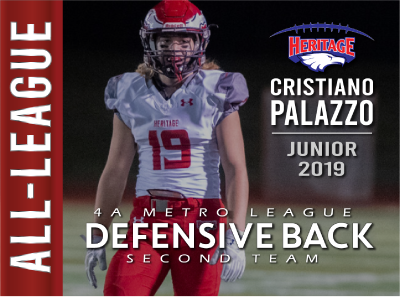 Colorado Elite Football
Cristiano recognized as a member of the Colorado Class of 2021 Elite Football by the Colorado Prep Report.
Lifter of the Year
Cristiano earned the "Dream Big Work Hard Lifter of the Year" award for his leadership in the weight room. This included leading his platoon to victory in summer training competitions, having one of the highest absolute lifting totals, and being the strongest man, pound for pound, on the team.